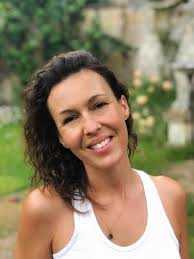 Annie's love of yoga began during her travels around Asia in 2003. She found much inspiration and feel in love with the collective art of yoga, movement and meditation. Her intensive studies began 2004 in traditional 'Mysore Ashtanga' in Byron Bay Australia. Annie then settled in the South of France in 2005, and continued to deepen her yoga practice. She completed her yoga teacher training with 'Yoga Alliance' in India in 2007. She also fully qualified 'Family and Children's Yoga' with Uma Dinsmore-Tuli, in the UK in 2009.
Over the last 10 years of teaching yoga, in the south of France, Annie has developed a fluid, feminine, creative style of yoga teaching. Specializing in Led Ashtanga, Vinyasa Flow and Yin Yoga Weekly collective classes in English and French, with a strong international 'private' client base also. Her heart, roots and personal practice still in a traditional 'Mysore' practice. Annie has also had great honor to be asked to teach on a number of private yoga retreats in 2013 and successfully marketed/designed and ran her own 'Yoga/Detox Retreat' in the south of France in 2014.
Annie is a creative, lighthearted person who has a joyful and open-minded approach to her yoga and teachings. She studies and travels to keep her approach fresh, enjoying new fusion styles of yoga. Annie's yoga passions also include; yoga dance, yoga nidra, chanting, music, massage and relaxation techniques.