10 Day Yoga Retreat At Palm Tree Yoga Centre, Kerala, South India (NOW BOOKING)
Teacher

Simona Hernandez

Date(s)

21st November - 1st December 2024 (FULL - Waitlist only) & 23rd March - 3rd April 2025 (NOW BOOKING)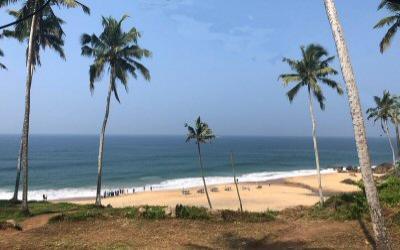 I can't remember the last time I taught a retreat that was longer than a weekend! I am so excited about teaching at the Palm Tree Yoga Centre in Kerala. It has been many years since I visited this part of India and I have very fond memories of the people, the warmth of the sun and the stunning ocean views. Palm Tree Yoga Centre overlooks the beach in a peaceful bay, yet is only a 15 min stroll or a short rickshaw ride from the shops and restaurants of Kovalam Village. In the lead up to Christmas and Winter Solstice it can been a chaotic time, so why not come and replenish yourself for 10 days before the madness begins!
Accommodation is spread over three colonial houses overlooking the beach. As we are so close to the ocean we also get the cooling sea breezes. This venue is nicely decorated with cool marble floors throughout.
All bedrooms have fitted wardrobes and en-suite facilities with solar heated shower, WC, basin and mirror, ceiling fans and mosquito nets on the windows.
Housekeeping service cleans the house daily and changes bed linen and towels every 4 days throughout your stay.
Each building has a communal kitchen with a fridge freezer.
There is plenty of crockery, cutlery and cooking pots in case you wish to create snacks.
Teas, coffee, drinking water and biscuits will always be available outside of meal times.
Each building also has a large and airy living room for relaxing with a dining area, sofa and comfy chairs.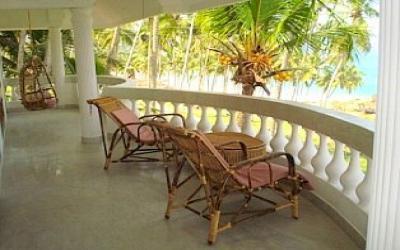 Palm Tree House (where the yoga shala is) has a communal lounge and a kitchen areas with a fridge, kettle, crockery and cutlery in case you wish to create snacks. This area is available to all yoga students.

There are four bedrooms, two have balconies with a sea view and are available for a supplement, the ground floor bedroom has optional air conditioning.
Pavilion House is superior spacious accommodation split into two apartments each with three bedrooms and a shared private lounge area. All Pavilion bedrooms carry a supplement.
In each apartment two of these bedrooms have a balcony with a sea view, one fo these on each floor has optional air conditioning. The third bedroom can access the sea view balcony via Pavilion House's private lounge, this room also has optional air conditioning..
New Rooms, this year we have two large new bedrooms situated at the front of the complex. These both have sea view balconies
Air conditioning is expensive to run in India, £50 a week is the normal fee and you will be charged locally. You can also pay £10 per night and use the facility occasionally. It is available between 6pm and 8am only. We encourage you to use the ceiling fans as this is a more ecological option plus we have the sea breezes which keep rooms cool and airy. For most participants this is sufficient.
Wifi is available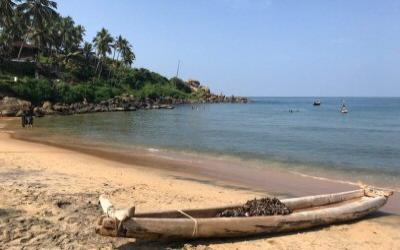 Palm Tree has an on-site massage centre so massages and Ayurvedic treatments can be arranged on-site.

Sumadra Village is less than ten minutes walk away and has several cafes, a beauty parlour, shops and lots of hotels (some of which allow us to use their sunbeds and swimming pool for a small fee).
Food: There is an on-site restaurant. Each day after your morning yoga class a delicious breakfast/brunch will be served. On 6 evenings, dinner will be provided. Kerala has great vegetarian cuisine so on other evenings we will explore the many local restaurants and maybe add in a little evening Christmas shopping!
Kovalam is two bays away and you can either stroll in along the road or take a 5 minute rickshaw ride. This is a great place to shop, change money, visit other beaches, an array of restaurants and treatment centres.
The beach is directly in front of the venue, sunbeds and umbrellas can be hired at a discount.
The Indian Ocean can be quite vigorous and have a strong undertow so there are well trained lifeguards on all beaches.
Excursions can be arranged for you: just ask Halin our manager and he will arrange transport and the excursions for you. Some of the excursions on offer are to the famous Keralan backwaters, wild life parks and to help wash the baby elephants at the elephant sanctuary. Cookery classes are also available.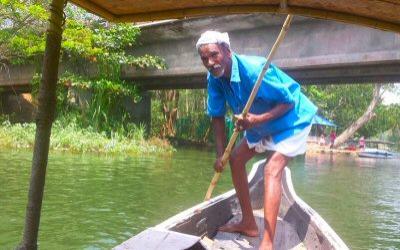 Yoga will take place in the shaded rooftop yoga shala where we can practice with the Indian Ocean in our sights. The yoga shala is fully equipped where we have space and equipment for 24 students. No need to bring anything from home. There are cooling roof fans and bamboo blinds so that we may practice in comfort throughout the season. We have magnificent views of the Indian Ocean as we practice and during the evening practice we watch the sunset over the ocean.

In the morning's, there will be an alignment based flow class beginning at approximately 7.30 am and finishing at around 9.30/10am (to avoid the heat). This will be flexible each day though. We will then have a hearty breakfast/brunch buffet.
In the evenings we will practice at Sunset from 4.30pm – 6.30pm. Once again we will be flexible and the times may change a little. . These sessions will vary each day and will include all aspects of yoga such as a Restorative Yoga, Yin Yoga, Somatics, Myofascial release, Yoga Nidra/ Meditation and Pranayama.
Yoga mats, bolsters, blocks and belts are provided. I will bring along tennis balls for everyone for the myofascial release classes.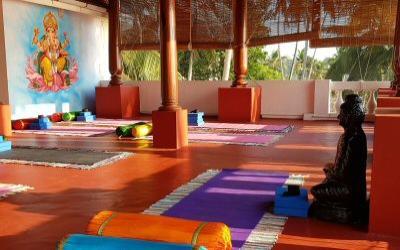 We have allowed two days without yoga during the middle of your holiday. This is so you may wander further afield to explore India, take longer excursions, or just relax.

Flights – Fly to Trivandrum – daily from Heathrow, several airlines including Emirates and Sri Lankan Air. All scheduled flights require changing planes on route. Emirates also fly from Gatwick.
Transfers – are included in the cost of the holiday, you will be met from your flight and taken to the venue.
Includes – Accommodation, breakfast, 6 evening meals on set nights, yoga and transfers.
Not Included – Flights, insurance, meals other than as specified above.
Passport – All passengers must have at least 6 months remaining on their passport upon arrival in India.
Visas are required for this holiday, you must purchase your single visit evisa, or your multiple visit regular visa on line, before you leave the UK.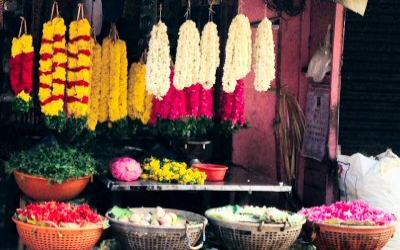 Cost

Single - 10 nights - £889
Sharing - 10 nights - £699
£40 extra for sea view room and £115 extra for Pavilion rooms or £40 for a rear room.
If you have any questions please do contact you Bodhi on 01225-464848 or email us on info@yogabodhi.co.uk.
To reserve your place or for more information then contact the Free Spirit Travel office:- 01273-564230.
Email: info@freespirityoga.co.uk or click on the book now link.